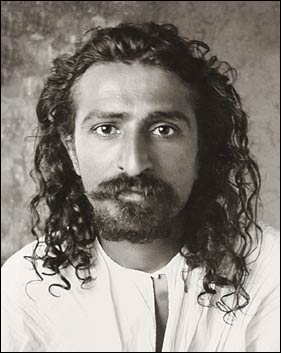 Meher Baba and his teachings helped me to find my true spiritual path. His grace will uplift you and draw you closer to the divine.
Introduction to Meher Baba
Studying Meher Baba's Teachings
After returning from India, I was motivated to learn more about Meher Baba's teachings and read God Speaks again. I became accustomed to the energy and began to understand the ideas. But what I experienced while reading the book was far more important that what I was learning conceptually. Through the words, I was being exposed to Meher Baba's grace. So I just let go and read the book as a form of meditation.
Over the next ten years, I read God Speaks over twenty times and his book Discourses five times. Reading became a form of meditation in which Meher Baba's enlightened presence helped me align with the deeper reality. And with each reading, my connection with Meher Baba strengthened.
Once you establish a strong internal connection with an enlightened master, it is always available to you. You no longer feel alone in the universe. When difficulties arise in your daily life, you can turn your attention to a saint and feel their love and grace flowing to you.
How Beliefs Can Affect Your Spiritual Progress
Meher Baba provides a detailed explanation of creation and the spiritual journey in his books God Speaks, Discourses, and The Infinite Intelligence. His teachings have changed the way I perceive reality, and they have enabled me to more easily align with the deeper reality. The impetus for writing my first book, Into the Formless, was to introduce Meher Baba's teachings to others, who might also find them beneficial.
Spiritual concepts exist only as ideas in the mind. At best they point us toward the deeper truth so that we may experience it directly. Some concepts are effective pointers that empower us to make profound spiritual progress. Other spiritual ideas are ineffective pointers that keep us trapped within the ego and the thinking mind.
The following are two commonly accepted spiritual ideas that were impeding my spiritual progress. Through Meher Baba's teachings, I discovered better pointers to the truth.
The Reward of Heaven
The Distance between You and God
The Grace of an Enlightened Master
Films about Meher Baba
While writing, I often watch a video of Meher Baba in the lower corner of my computer screen. The light that emanates from the images of Meher Baba makes it easier to stay align with the deeper reality. My mind is more still and my energetic system vibrates at a higher level, which allows the writing to occur more naturally.
The following are my favorite films about Meher Baba that you can watch online for free:
Beyond words – 1967 film of Meher Baba
Meher Baba, The Awakener
Meher Baba – Human Side Of God
Meher Baba's Call
Baba spent many years seeking out and helping the masts who lived in different parts of India. They are spiritually advanced people who are so intoxicated by their love for the divine that they are unable to function in society. In some of his videos, you can see him washing and bowing at the feet of masts and those who have been struck with leprosy.
Taking Advantage of the Opportunity
It is a shame that relatively few people know about Meher Baba, the most recent incarnation of the world savior. It took hundreds of years before Jesus' life and teachings became widely known. Hopefully, more people will find out about Meher Baba in a much shorter time.
Meher Baba has stated that he is not interested in forming a new religion. It would be nice if people did not come along later and create a religion around him and his teachings. Then it might be easier for people to avoid getting lost in external forms of religious rituals and instead turn their attention within, where the true spiritual journey takes place.
I grew up in a Christian church and often wondered what it might have been like to be in the presence of Jesus or read teachings that he wrote. We are all fortunate to have access to the films and writings of an enlightened teacher such as Meher Baba. I hope that you will take advantage of them.